Garlic classifying machine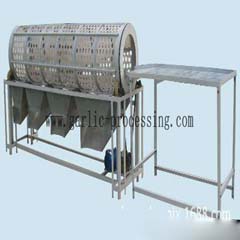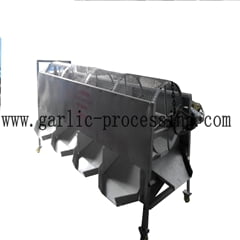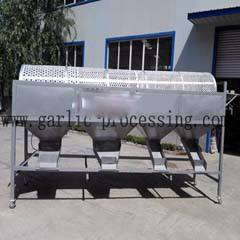 Brief introduction :
Garlic classifying machine is used to sort the garlic clove by size, the machine material can be stainless steel and carbon steel.
Garlic classifying machine have already been used for garlic deep process factory, garlic planting farmer, restaurant and other vegetable /seasoning processing industry.
We could manufacture the garlic production plant: Garlic harvester machine, Garlic root and stem cutting machine, Garlic clove breaking and separating machine, Garlic skin peeling machine, Whole Garlic sorting machine, Garlic clove sorting machine, Garlic paste machine, Garlic drying machine, Dry garlic milling machine and so on.
Features:
High efficiency & Precision, Easy operation & Save labor.
Automatic garlic clove feeding & sorting & discharging.
Customized 4-6 levels garlic clove sorting machine sorted the garlic clove by size has been applied in garlic process field.  Reasonable structure & Robust technology.
Working principle:
The garlic to be separated during operation is put into the operation platform, which is manually fed into the rotary drum of the main engine (it can also be sent by the conveyor belt);
Garlic is driven by the rotation of the rotary drum, which is in spiral propulsion and leakage through all levels of grading holes to achieve automatic grading. This equipment can automatically sort garlic into levels 4-7 (35,40,45,50,55,60,65), replacing manual automatic sorting, which can improve efficiency 5-8 times.
Garlic classifying machine Power is 1.5kw single-phase motor, low energy consumption, simple operation and high efficiency.
 The main parameters of the machine:
| | |
| --- | --- |
| Model | TZ-1500B |
| Type | Old version |
| Capacity | 800-1000kg/h |
| Power | 0.75kw |
| Voltage | 220v, 50hz |
| Weight | 200kg |
| Dimension | 3000*800*1700mm |
| Grading level | 4-6 levels |