Introduction of garlic drying machine:
This garlic drying machine is widely used for vegetable, meat, snack food and aquatic products. It can dry off the water on the vegetable by using vibrate force.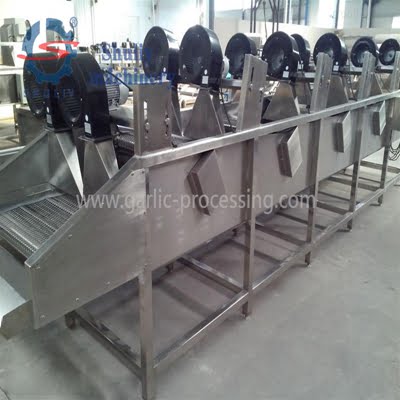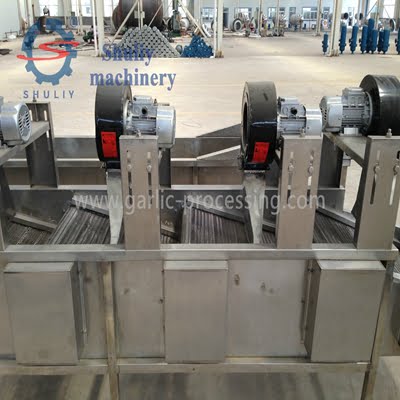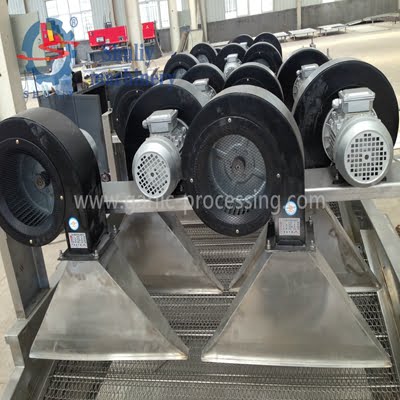 Features:
The garlic drying machine can effectively remove water droplets on the surface of materials, greatly shorten the working time of labeling and packing, and is suitable for assembly line operation to improve the degree of production automation of enterprises. The dry air is at room temperature, which can effectively protect the color and quality of the material itself.
Parameters of the garlic drying machine:
Model
Motor
Power
Air Blower
Power
Machine
Size
Weight
Capacity
TZ2000
0.75kw
0.75kw*4PCS
2000x1270x1450mm
200kgs
500kgs/h
TZ3000
0.75kw
0.75kw*8PCS
3000x1270x1450mm
400kgs
800kgs/h
TZ4000
0.75kw
0.75kw *12PCS
4000x1270x1450mm
600kgs
1000kgs/h
TZ5000
0.75kw
0.75kw *16PCS
5000x1270x1450mm
900kgs
2000kgs/h
TZ6000
1.5kw
0.75kw *20PCS
6000x1270x1450mm
1200kgs
3000kgs/h
TZ8000
1.5kw
0.75kw *28PCS
8000x1270x1450mm
1400kgs
4000kgs/h
TZ10000
1.5kw
0.75kw *36PCS
10000x1270x1450mm
1600kgs
5000kgs/h
TZ12000
1.5kw
0.75kw *40PCS
12000x1270x1450mm
1800kgs
6000kgs/h