Garlic dehydration machine | industrial garlic drying oven
Garlic dehydration machine is a hot air circulation industrial oven, used for heating and drying various agricultural and industrial materials, like making dehydrated vegetables and fruits. Industrial garlic drying oven applies a low-noise and high-temperature proof axial flow blower and an automatic temperature control system that is fully sealed, making that the heat efficiency of the drying oven increases from 3-7% of traditional oven to 35-45% of the present one. The highest heat efficiency can reach 50%. The garlic flake dryer has moveable trolleys and trays, especially suitable for drying heavy products or products of large quantities. Thus, it reduces labor and increases production efficiency. The inner material of the garlic dehydration plant is stainless steel materials, and there are tracks on the bottom for the movement of trolleys. The garlic drying machine has high heat efficiency and a uniform drying effect. It can be used for all kinds of materials in pharmaceutical, chemical, food industries, other light, and heavy industries, etc.
Video of garlic dehydration plant
Main Features of garlic dehydration machine
High thermal efficiency, and energy conservation. Most of the hot air keeps inside. The highest heat efficiency can reach 50%.
Uniform drying effect. The use of a forced ventilation box with an adjustable air divider plate.
Precise temperature and humidity control: accuracy ± 2 Celsius degrees.
Automatic temperature control easy installation and maintenance.
Environmental friendly. When dry, the garlic flake dryer does not discharge dust and odor to the external environment.
Low noise and stable performance.
Applicable to a wide range of materials. It can be used for drying various materials and is versatile drying equipment

.

Customized services available. For special specifications of customers, we offer customization services in the aspects of machine material, machine capacity, voltage, spare parts, etc.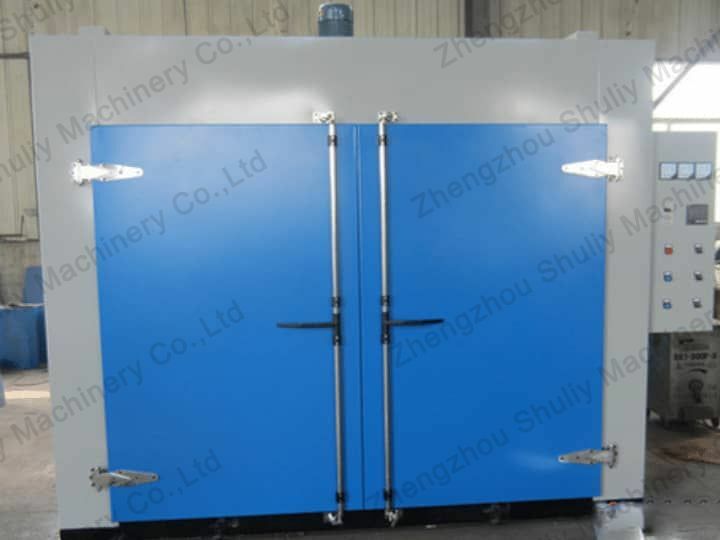 Application scope
The garlic dehydration machine is suitable for drying or dehumidifying a wide variety of raw materials and products in the pharmaceutical, chemical, food industries, etc. Here are some examples in the food processing industry.
Vegetables: garlic, ginger, carrots, pepper, chili, mushrooms, sweet potatoes, etc.
Fruits: kiwi fruit, banana, litchi, longan, banana, apple, etc.
Dry fruits: peanuts, cashews, walnuts, pistachio, almond, broad bean, beans, and other granular food
Meat: sausages, fish, shrimps, and other seafood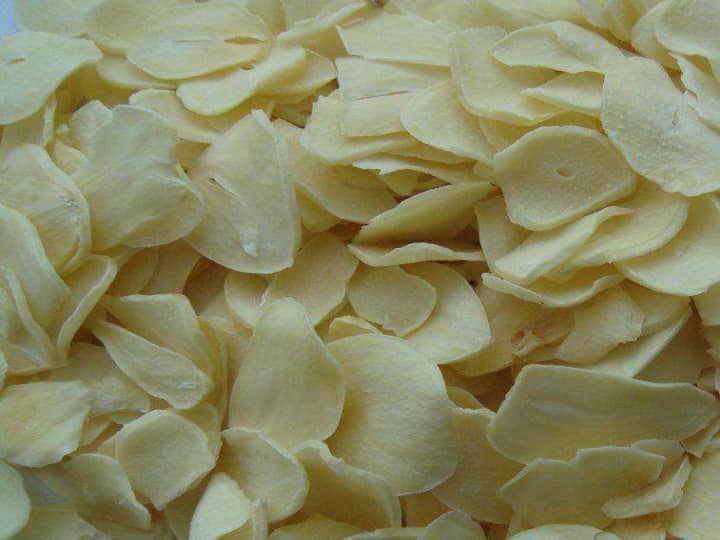 Working principle of a garlic dehydration plant
The garlic dehydration machine uses a heat pump to place the material in a relatively closed thermal insulation drying room and discharges the water vapor out of the drying room through the closed circulation drying air to achieve the purpose of drying the material. The material on the layers on the tray can realize uniform drying effects.
General operation methods
There are trolleys with shelves inside the industrial garlic drying oven and many trays on the shelves. Users can put the material on the trays, and then put the plates on the shelves. There are wheels on the trolleys, so users can move them in and out of the dryer.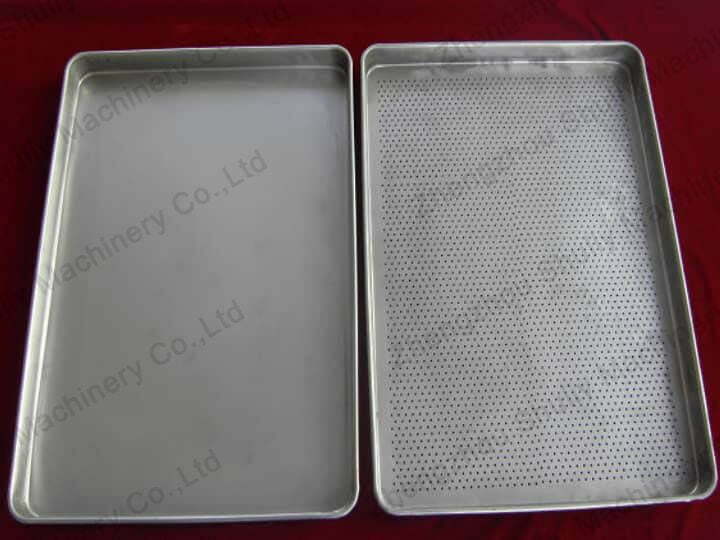 These are the trays of the garlic flake drying machine. It can be divided into non-perforated plates and perforated plates. The general dimension of a tray is 640×460×45mm. The size of the trays can be customized according to customer needs. Made of food-good stainless steel, the material is hygienic, meeting food safety standards.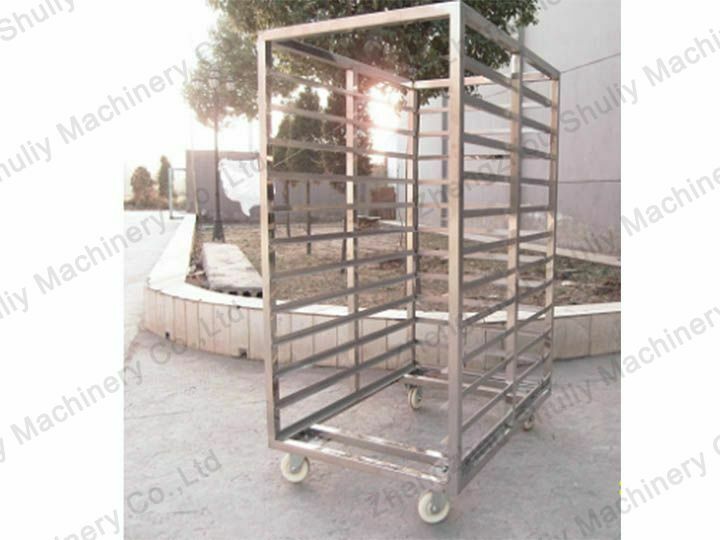 The trolley type is very convenient, and the whole vehicle can enter and exit the oven, especially for large quantities of materials. It is convenient and efficient to use. The general dimension of a trolley is 700(width) × 920(depth) × 1330(height) mm. For different outputs of the garlic drying oven, the trolley number can be different.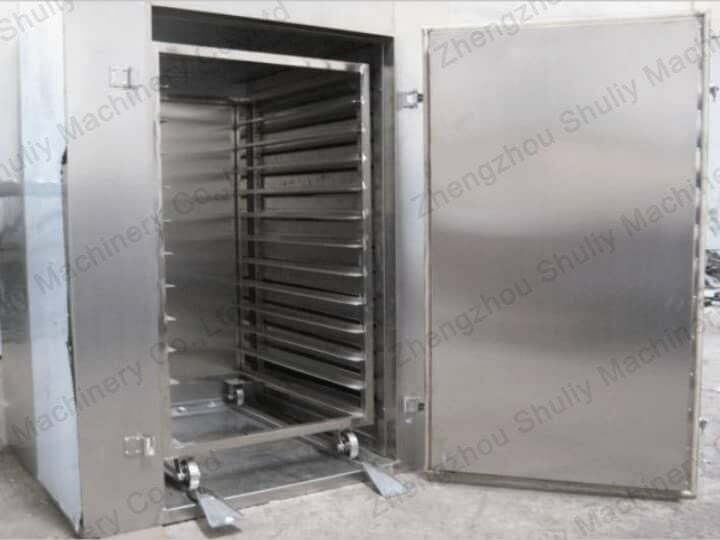 This is a single-door industrial drying oven with one moveable trolley. The trays can be placed on each layer. This type of drying oven is suitable for small-scale drying businesses.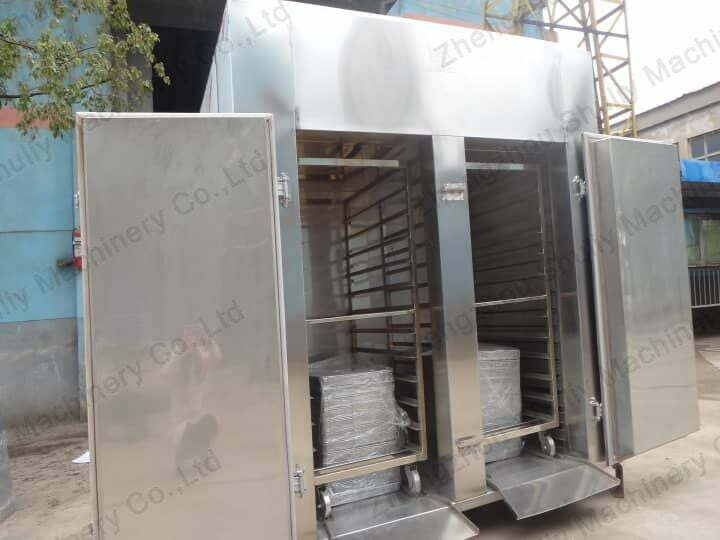 The double-door garlic dehydration machine can be placed with two moveable trolleys. This type of industrial vegetable dryer machine has a larger output than the single-door type. The door structure is a compression structure, and the door strip is a silicone sealing strip.
Garlic dehydration machine parameter
| | | | | | |
| --- | --- | --- | --- | --- | --- |
| Model | Plate number | Motor | Area of the plates | Productivity | Dimension (m) |
| SLY-1 | 24 | 9kw | 7.1 m² | 60kg/batch | 1.5*1.2*1.98 |
| SLY-2 | 48 | 15kw | 14.1 m² | 120kg/batch | 2.45*1.2*1.98 |
| SLY-4 | 96 | 30kw | 28.3 m² | 240kg/batch | 2.45*2.2*1.98 |
| SLY-6 | 144 | 45kw | 42.4 m² | 360kg/batch | 3.6*2.2*1.98 |
| SLY-8 | 192 | 60kw | 56.5 m² | 480kg/batch | 4.6*2.2*1.98 |
The above table shows the standard specifications of 5 machine models. Besides, the number of compartments can be increased or decreased, and stainless steel shelves, trays, and trolleys can be added according to customer requirements. Ovens of various specifications and functions can be customized according to the requirements of non-standard specifications.
For small outputs, many customers choose the SLY-1 and SLY-2, involving one trolly or two trolleys. The models require less investment and can match the capacities of small businesses. For medium and large outputs, the other 3 models are also popular among our customers. For different materials, the capacity can be different to some extent.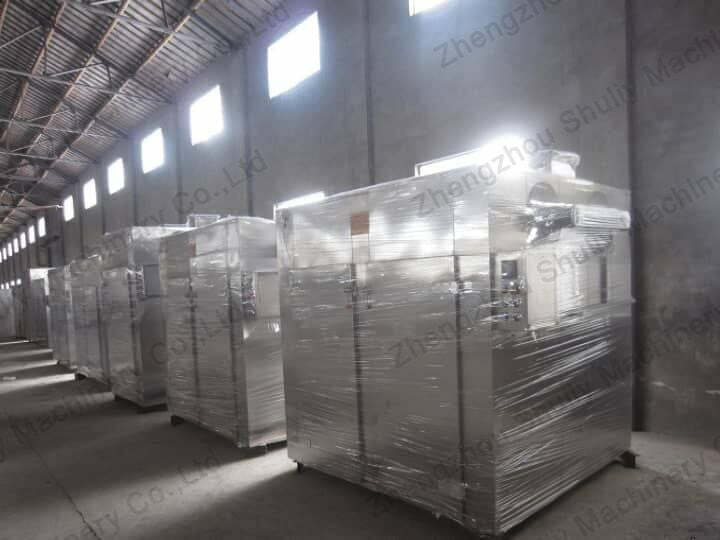 As for large production, especially in production lines, a continuous food dehydrator machine (tunnel conveyor drying machine) can also be a good choice. The machine can realize continuous operation and fully automatic operation with the output reaching 500-600kg/h or above.
Related equipment
Garlic slicer machine for making garlic flakes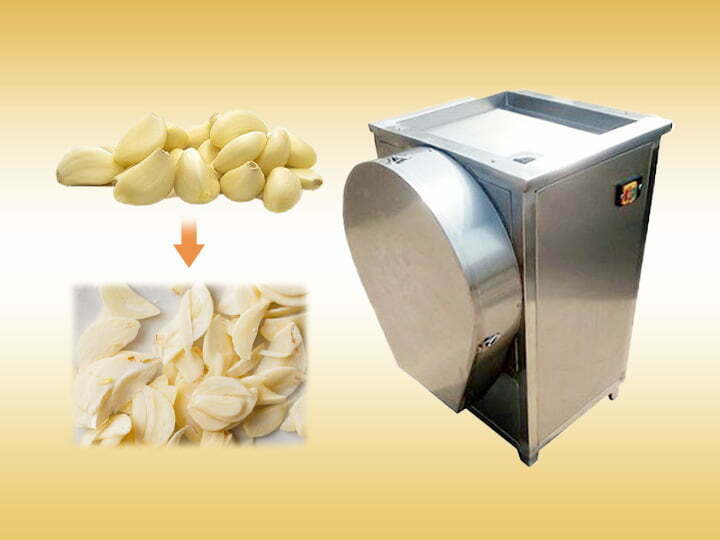 If you are interested in the industrial drying oven, welcome to get in touch with us and we will then send you professional advice, specific quotation, and machine details.