Commercial onion and garlic peeling machine (also known as dry garlic skin peeler), with a fast processing speed and high peeling rate, is an ideal replacement for manual peeling. The feeding, peeling, and discharging procedures of the garlic onion peeling machine are controlled by the principle of electricity and gas, which realizes complete automation and continuous work, and dramatically reduces the labor intensity of manpower. The peeled onion and garlic have a smooth surface, with no damage to the pulp, and long shelf life. It is generally used for peeling granular ingredients such as raw garlic and onions. The commercial onion peeling machine is commonly used in garlic and onion processing plants, food processing plants, supermarkets, canteens, and other catering service units.
Outstanding advantages of onion and garlic peeling machine
Using the specially designed pneumatic peeling principle, the onion and garlic cloves are completely free from the blade and hardness friction of the garlic onion peeling machines, so the integrity and smoothness of the processed objects can be ensured.
The peeling rate is high, which can reach more than 95%.
The peeling operation is consistent, and it is practical, power-saving, small in size, has a large production capacity, easy maintenance and cleaning, and low failure rate.
Equipped with automatic temperature control and an automatic feeding device, the onion skin peeling machine ensures that the onion pulp and skins are automatically separated, and the products meet hygienic standards. Because the garlic and onion pulps are not easy to damage, they can be stored for many days.
The plastic sheet is made of food-grade material, which has high elasticity, tensile resistance, fatigue resistance, and other properties;
The onion peeling machine has various models and outputs, reaching 100-1000kg/h. This machine is suitable for small to large farmers' markets, hotels, homes, canteens, and other occasions.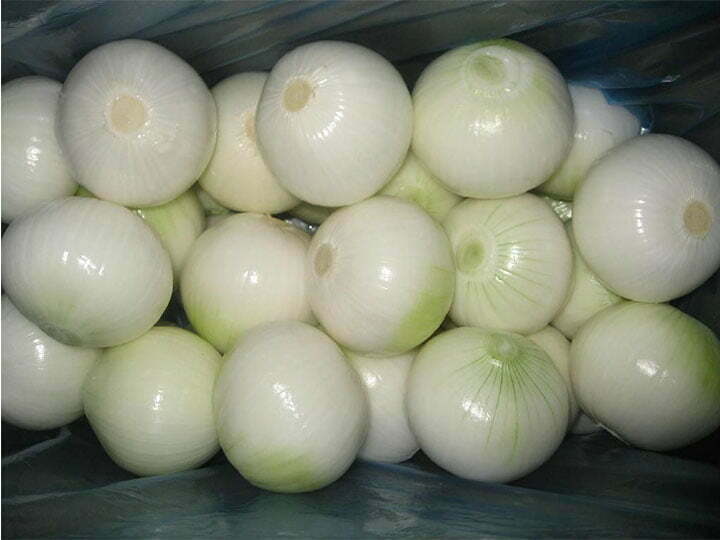 How does a garlic onion peeling machine work?
This onion and garlic peeling machine uses compressed air as a power source to generate a strong swirling airflow to take off the outer membranes of garlic cloves and onions, with a smooth surface and low loss. It is suitable for use in the market, food factories, garlic and onion industries, and other places.
The garlic onion peeler machine consists of two parts. The drying barrel has the function of hot air circulation, which can keep the raw materials in a dry state even in humid climates. The peeling part uses the airflow of the air compressor as the power to save electricity.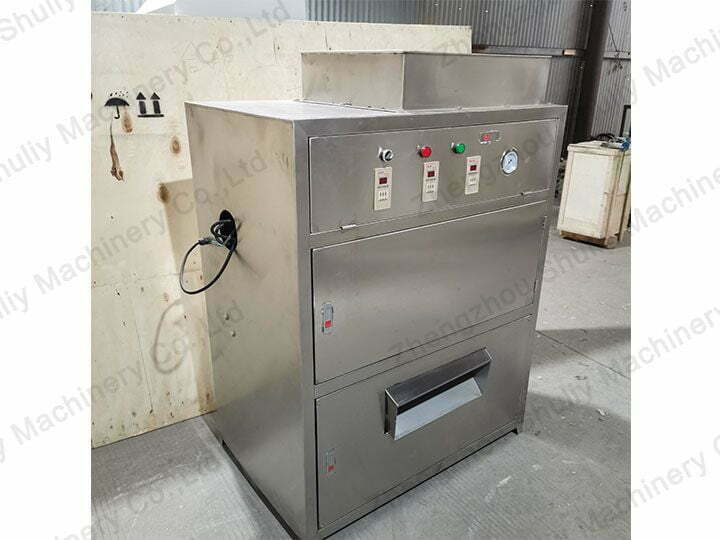 Garlic onion peeling machine price
As an onion peeling machinery manufacturer, we have designed and produced a series of onion and garlic peeling machines of different types and models. Apart from small onion peeling machines, there are chain-type garlic peeling machines with larger outputs and continuous operation. The onion peeling machine price varies with the machine models, types, outputs, machine materials, customization services, etc. Welcome to contact us for the latest and detailed quotations if you are interested in the onion skin peeling machine.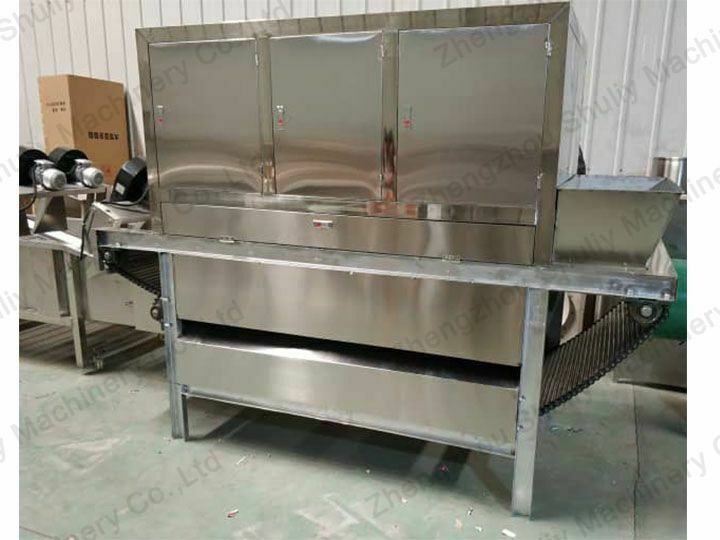 Parameter of TZ-150 and TZ-500 onion skin peeling machine
Model
Specifications
TZ-150
Voltage: 110-220V,
Power: 200W,
Size: 62*63*90CM,
Weight: 80KG
Output 100-150kg/h
TZ-500
Voltage: 110-220V,
Power: 200W,
Size: 100*68*140CM,
Yield: 150KG
Output 500kg/h
The above table presents two typical machine models of the onion peeling machine. The TZ-150 is suitable for small garlic or onion processing businesses. TZ-500 is often chosen by medium vegetable processing operators. The machine voltage, size, and outputs can be changed based on individual demands. For other special requirements, our company is able to customize the machine. Welcome to contact us for professional advice and more machine details.