Great market potential of garlic slicer machine
With the growing knowledge of garlic, people are increasingly interested in using garlic in their cooking. In addition to very high edible value, the scientists also found that garlic has a very high medicinal value. Garlic also has cancer-fighting properties. Along with the market demand for garlic product is more and bigger, the garlic farmers around the world began to large scale planting garlic and processing garlic products.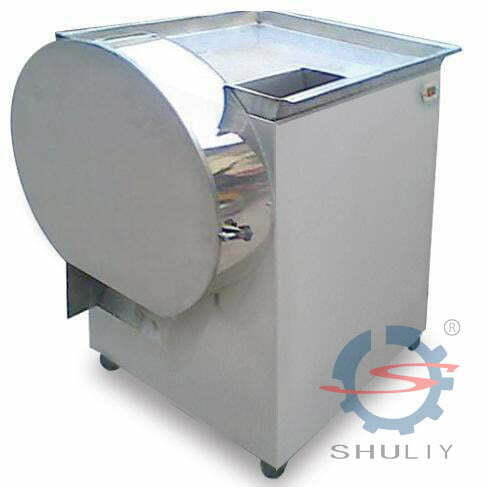 China's garlic cultivation, processing, production, export in the world garlic production accounts for a large proportion. In the economic crop that our country exports, garlic holds a considerable part. In recent years, with the continuous increase of market demand, the production and sales of garlic show a trend of linear rise, and the economic benefits brought by the production and processing of garlic is also very considerable.
In the whole production of garlic products, garlic slicing is an important link because the sliced garlic can be processed into many fields like seasoning factory and pharmaceutical factory. Garlic slice, as a kind of deep-processed garlic product, is widely loved by consumers because of its advantages of storage resistance and easy transportation.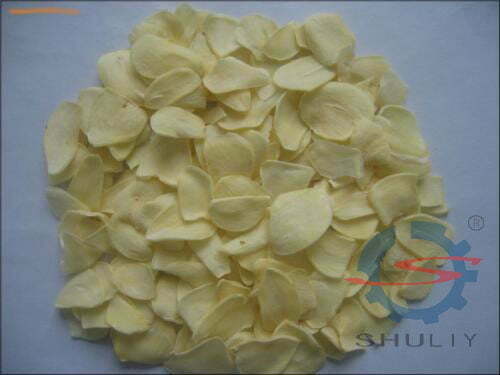 The main structure of automatic garlic slicing machine
The main structure of garlic slicer includes a feeding device and a slicing device. The feeding device includes a frame, a feeding belt, an electric frame, a baffle plate, a support frame, a motor, a reducer, a roller shaft, a gear, a bearing seat, and a protective cover. And the slicing device comprises a motor, a transmission structure, a cutter disc shaft, a hopper, a baffle, a cutter disc, and a discharge port.
This new automatic garlic slicer overcomes the disadvantages of the traditional garlic slicing equipment, such as single slice thickness, scattered garlic slices after slicing and difficult to collect. Put the garlic into the slicer hopper. The garlic slicer will deliver the garlic to the feeding port through the feeder, and then the slicer will quickly cut the garlic into slices with a clockwise rotating knife plate. The slicing thickness of the garlic can be adjusted according to the customers' needs.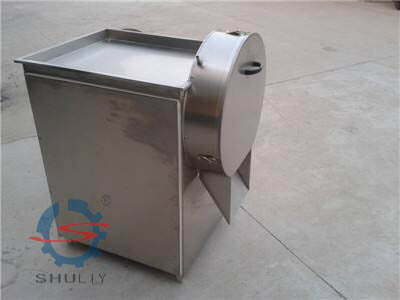 Advantages of the high-quality garlic slicer machine
Garlic slicer and food contact parts are made of food-grade stainless steel, which is safe and healthy for the garlic processing.
Garlic slicing machine has high slicing efficiency and is ideal equipment for the garlic processing industry.
The finished garlic slices are smooth and uniform, no damage, the thickness of the slices 2-20mm can be adjusted freely.
Easy to operate and clean, high production efficiency, low energy consumption.
It can be used separately or used in garlic processing line with other garlic machines like garlic peeling machine, garlic grinding machine and garlic drying machine.